Shanghai Pudong International Airport (PVG) has contracted Intersystems to upgrade their current system to the latest rapidsuite6 to support doubling of the system's capacity being provided by the new satellite terminals and overall airport improvements.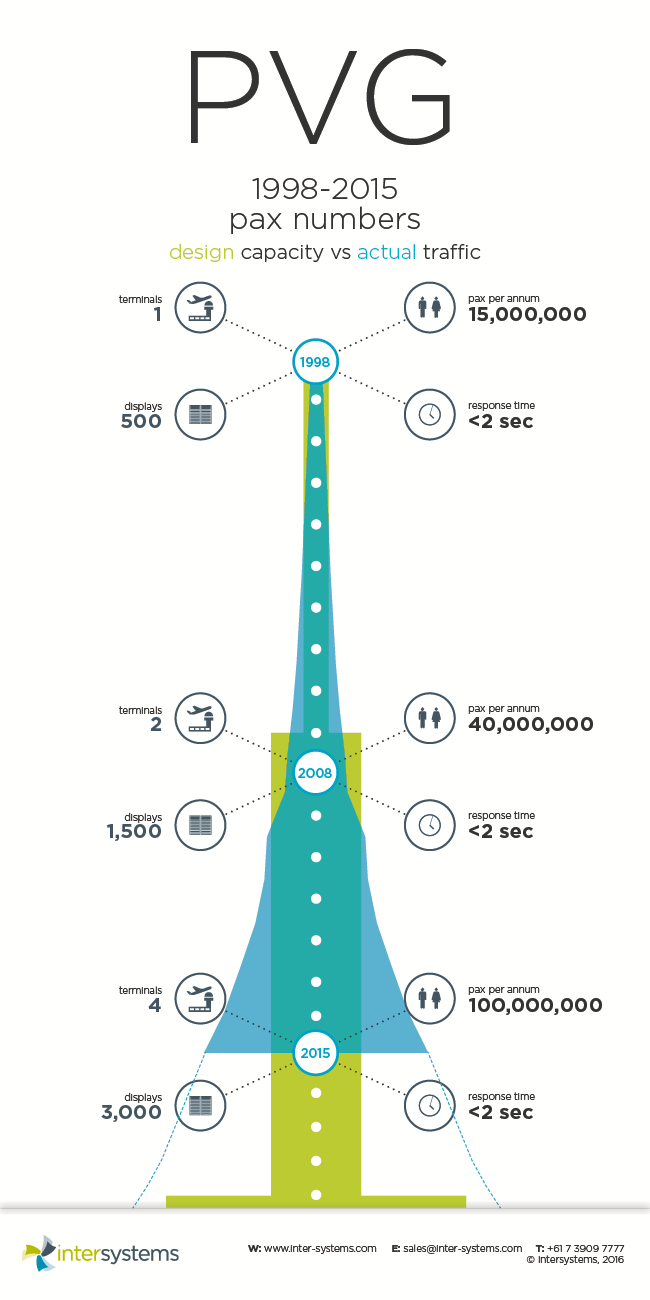 Image - Pudong Airport (PVG), system design milestones infographic, showing PAX numbers from 1998 to 2015 and they airports design capacity vs actual traffic.
Pudong Airport is the largest site to upgrade to rapidsuite6 and in addition to upgrading their system, Pudong Airport is also expanding the system's size to accommodate new terminal projects and future growth.
The new rapidsuite system has been designed to accommodate 100,000,000 passengers per annum and 2,000 movements per day whilst maintaining it's real-time performance across 3,000 flight information displays.
"As a long-term customer, we've watched as Pudong Airport has grown over the past 17 years with our original Rapid Suite product and wanted to ensure what we designed suited them for the next 20 years," commented Bruce Allen, CEO of Intersystems. We've completed the design phase of the upgrade and expansion project; the enterprise grade system that we've designed has focused on delivering performance and scalability to accommodate current capacity and projected future growth."
The upgraded system will also be delivered with a host of product enhancements that will deliver new features throughout the suite.
rapidsuite6 was officially released in September 2015 and since then it has had a 25% adoption rate across Intersystems global customer base.
rapidsuite6 represents a significant evolution of Intersystems core airport operational software suite - rapidsuite. Along with a significant number of system enhancements under the hood, rapidsuite6 has started deploying new, purpose built apps that have been designed from the ground up to be the intuitive and powerful apps that are simple to learn and easy to use.
---
Back to News